When it comes to shopping for long sleeve wedding dresses, many brides feel overwhelmed. With so many different styles and designers to choose from, how can you be sure you're making the right choice? Not to worry! We've put together a comprehensive guide to help make the process a little bit easier. 
In this guide, we'll cover everything from fabrics and silhouettes to necklines and accessories. Plus, we'll provide tips on how to find the perfect dress for your unique style. So whether you're just starting your search or you've already found "the one," read on for some invaluable advice!
What to Consider
Fabrics: 
When it comes to wedding dress fabrics, there are so many options! Silk, lace, and satin are all popular choices for long sleeve gowns. But don't overlook tulle, chiffon, organza, and crepe either. Consider the climate of your wedding venue when choosing a fabric—you want something that will be comfortable in both hot and cold temperatures. Also, remember that some fabrics wrinkle easily (like silk and chiffon) while others don't (like satin and crepe).
Silhouettes: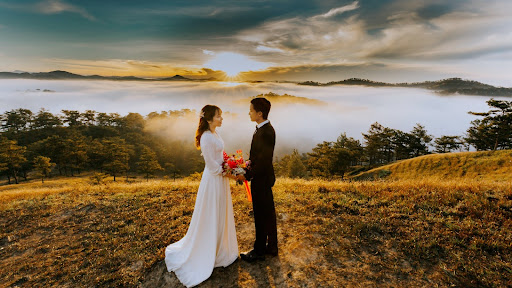 After you've chosen a fabric for your long sleeve wedding dress, it's time to start thinking about the silhouette. A-line dresses tend to be flattering on all body types, while mermaid and trumpet gowns can give you a more dramatic look. Ballgowns are also a classic choice but tend to be heavy and voluminous. If you want something simpler, try an empire waist or sheath silhouette instead.
Necklines: 
The neckline of your dress can make a huge impact on the overall look. V-necks and sweetheart shapes are two timeless options that look great with long sleeves. If you prefer something a bit edgier, opt for an asymmetrical design or an off-the-shoulder style. And don't forget about high collars—these can create a very chic and elegant look if done correctly.
Accessories: 
Once you've chosen the fabric, silhouette, and neckline of your long sleeve wedding dress, it's time to start thinking about accessories. If you want to make a dramatic statement, consider wearing a statement necklace or earrings. Other popular choices include belts and sashes—these can be used to cinch in the waist and create a more flattering shape. Don't forget about headpieces either! A simple flower crown or veil can add the perfect finishing touch.
How to Style a Long Sleeve Wedding Dress: Tips & Tricks
Now that you know the basics of shopping for long-sleeve wedding dresses, here are some tips and tricks to help you style your look:
Keep it classic.

A timeless dress will never go out of style, so try to choose a design that won't look dated in photos years later.
Make sure you can move comfortably.

Whether your dress has sleeves or not, be sure to test out the fit before buying—you don't want something that restricts movement too much!
Play with texture.

Use accessories like lace and beads to add texture and dimension to your overall outfit.
Accessorize wisely.

When choosing jewelry and other pieces, try not to overshadow your dress. A few simple pieces will do!
Add a pop of color.

If you want to add a little bit of color, try wearing brightly-hued shoes or carrying a bold bouquet.
With so many different styles, silhouettes, and accessories to choose from, finding the perfect long sleeve wedding dress can be overwhelming. By following this guide, you'll be able to find a dress that flatters your figure and expresses your unique style. From fabrics and necklines to accessories and styling tips, we hope this guide has helped make the process easier! Good luck with your search—we know you'll look absolutely stunning on your special day.